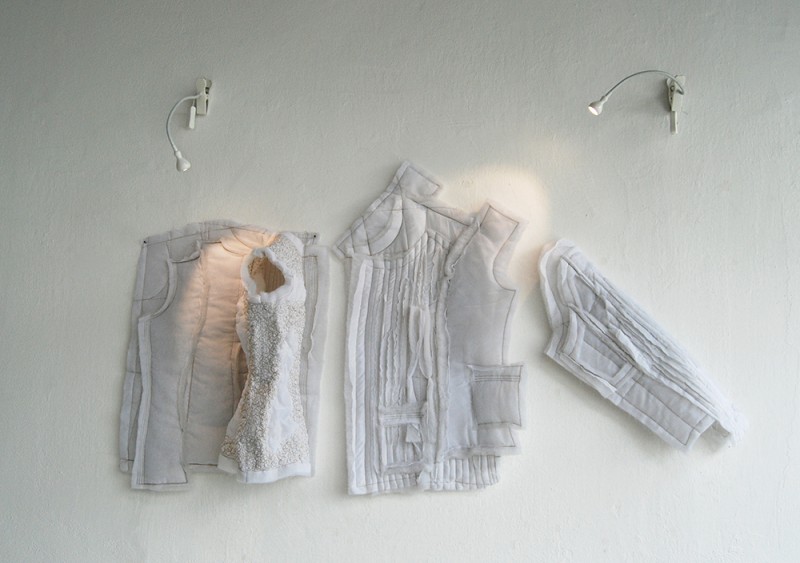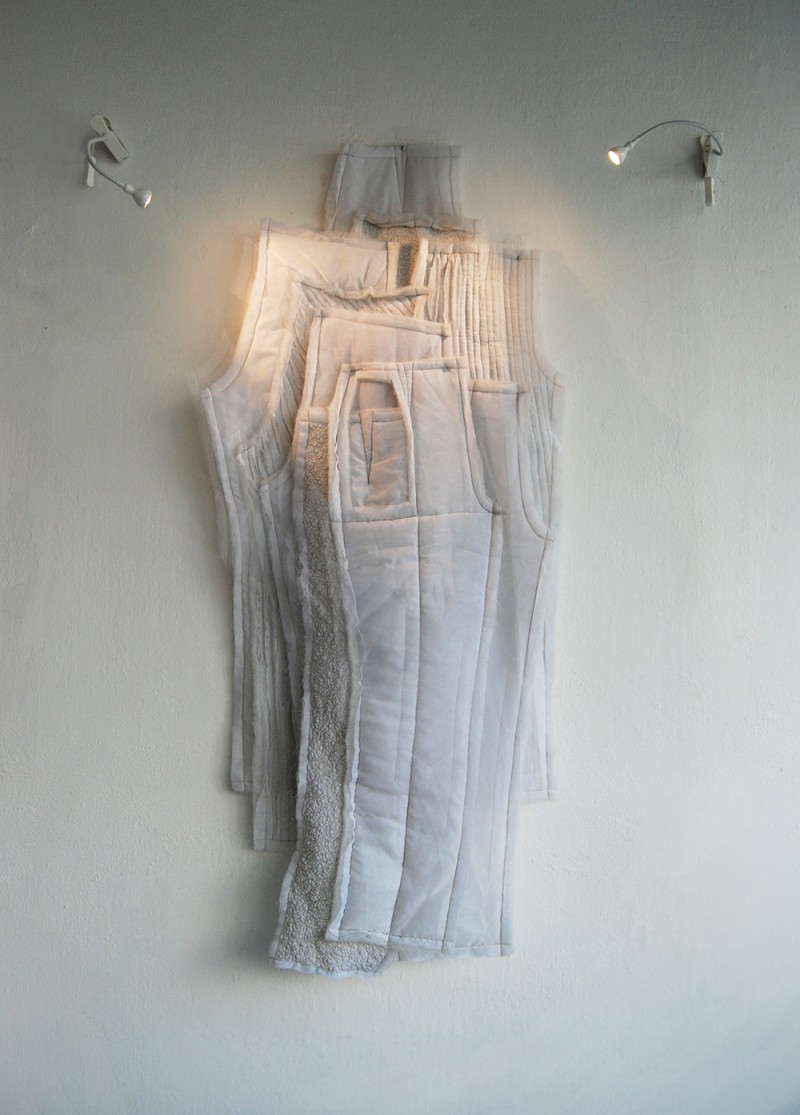 Altars / Oltáre, 2012
I see fashion as today's fetish. Ever changing trends, never ending hustle around the designers or models, what do they bring to us? Isn't it a bit empty? Clothes cover body, protect it. Clothes present their wearer. Really?

I continue and develop technique from my previous projects. I use the same materials. The layers offer me the possibility to create relief, thick layers, three dimensions. The result has the form of an altar hanging on the wall completed with lights. The objects have the shapes of clothes and are sewn with gold thread. I cut through to see the lower layers and destroy the upper ones. I uncover the body, which is (possibly) missing. It is lost in the flood of material things.

Módu vnímam ako dnešný fetiš. Meniace sa trendy oblečenia, topánok. Neutíchajúci ruch okolo návrhárov, či modeliek/modelov. Ale čo nám to naozaj prináša? Nie je to trocha prázdne a pominuteľné? Odev obaľuje človeka, chráni ho. Ale aj z neho robí človeka. Naozaj?

Nadväzujúc na svoje predchádzajúce práce, využívam rovnaký dvojvrstvový textilný mäkký materiál.
Ponúka mi možnosť vytvárať reliéf, tretí rozmer, s ktorým chcem pracovať. Výsledok má formu oltárov, zavesených na stenu, ktoré vychádzajú z tvarov strihov na rôzne druhy odevov, prešívané zlatou niťou a doplnené svetlami. Nožnicami sa prerezávam do spodných častí. Odhaľujem spodné vrstvy, telo, ktoré tam nie je. Pretože je stratené v záplave materiality.